On a weekly basis my thoughts fluctuate between having hope for Taz's future and feeling the opposite, hopeless. Well, today I'm feeling utterly hopeless.
Taz has been on risperdal (3x day), seroquel (12mg at night for sleep, the only thing that keeps the night terrors away), and depakote (2x day). For those who don't know, risperdal and seroquel are anti-psychotics and depakote is a mood stabilizer. It's pretty typical that someone with bipolar is on anywhere between 2-5 different types of medication, usually a combination of mood stabilizers, anti-psychotics. BUT, every medication works differently for every person. Which is what makes medicating children VERY tricky. Like I've said before, it's a guessing game.
For us, the difficulty is exacerbated by Taz's age. Our pdoc (or psychiatrist) is very experienced in working with young children and strikes a good balance between being aggressive to treat the illness but conservative in dealing with medication and Taz's age.
We had an appointment on Monday morning to check in about the med combo he's on now.
Since Taz has started the depakote, more than a month ago, he has been eating NON-STOP. And I don't mean snacking here and there on high carb foods. I mean shoving food into his mouth like he's been starved his whole life, then asking for more before he's done chewing. He's been eating two, sometimes even three, of each meal. So, 3 breakfasts, 3 lunches, and 3 dinners. Plus snacks in between. And the problem is getting progressively worse.
Even though Taz is very active and skinny, and as of right now he's not gaining tons of weight, I'm still concerned about this side effect.
Pdoc didn't think it was any big deal unless he is gaining huge amounts of weight. But why would I want to wait that long? Maybe it's just not a big deal in the grand scheme of things? Maybe he's seen worse side-effects and I'm just being a wuss? I don't know. I'm new at this.
Anyway, I've been depressed, discouraged, and feeling hopeless all day because we are down to three options and one very big realization.
The options:
1) Keep everything the same and deal with the eating problem in other ways
2) Taper down the risperdal to see if it helps
3) Take him off the depakote and don't replace it
And the big realization is...(dum dum dum)....this is as good as it's gonna get, at least for a couple years (when he's old enough to try another mood stabilizer).
Yikes.
I think I'm still naive about all of this. I mean, I've never raised a mentally ill child before. How am I supposed to know what to expect? I put all my hope in that medication would make him "normal". Now don't give me any BS about there being no such thing as normal. You know what I mean!
Even when Taz is stable, or having a good day, there is still "stuff" there. Anxiety, fear, short attention span, social delays, the list goes on. I would
love
, not for my sake but for his, if we could get just a few hours a day of normalcy.
So I put all my hope in medication. And it's working, to the minimal effect. But when we are late with the risperdal, Taz falls apart. If we skip a depakote dose, Taz falls apart. So, what choice do we have? We have to keep him on all three. It's what's holding him together (although he's still very fragile) enough to get through the day.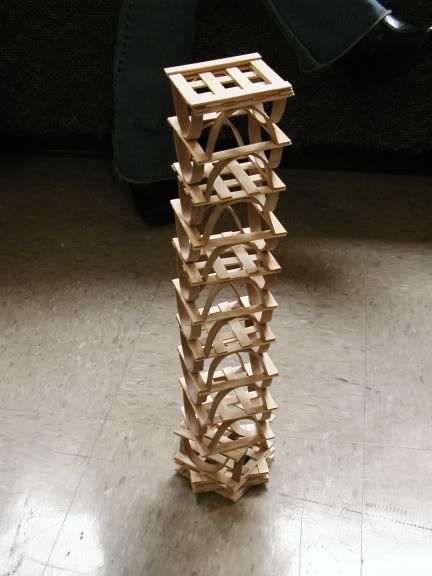 I guess I can figure the medication is the glue that's holding all the bipolar pieces of him together. He still might wobble here and there. He's fragile enough that even a little bit of shaking will knock him over. But when the ground is secure, it's the glue that helps him stand strong.
And I think it sucks that we have to choose between side effects of the drugs and side effects of not being drugged. That's the tough decision no one should have to make.
So we chose side effects of drugs. We made a small basket of low calorie snacks (rice cakes, raisins, etc) that Taz can have access to anytime. But those are the only things he's allowed to eat between meals. I'm hoping it's worth it.
What did you choose for your kids?